May looks to US-Canada border
Arrangement could be used as an example in Ireland following Brexit
British Prime Minister Theresa May has said her government is looking at the border between the United States and Canada for "lessons that could be applied" to the frontier between Northern Ireland and the Republic of Ireland following Brexit.
The British and Irish governments have agreed that there should be no hard border between the north – part of the United Kingdom – and the rest of Ireland – a member state of the European Union – after Brexit, but more specific details of how trade and other interactions will be conducted are still unclear. It remains one of the biggest obstructions to progress over Brexit.
In the aftermath of her most recent speech on the topic on Friday, May took questions from members of Parliament on Monday, and said there were many different customs arrangements around the world which could be learned from.
"We are looking at those, including the border between the United States and Canada for lessons that could be applied to Ireland," she said.
Jeremy Corbyn, leader of the opposition Labour Party, said May's latest speech showed no real substance or signs of progress on the matter, adding that no solutions had been offered and the government had wasted the last 20 months which had degenerated into infighting in May's own Conservative Party.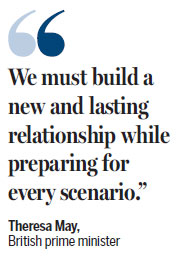 "The prime minister's speech on Friday promised to unite the nation, but it barely papered over the cracks in her own party," he said.
Northern Ireland's geographical location means that post-Brexit the frontier with the Republic will be the sole EU border in the United Kingdom.
May also told MPs that she felt confident a future trading arrangement between Britain and the EU could be reached, saying it was in the interest of both sides.
"We cannot escape from complexity of the task ahead," she said. "But with pragmatism, calm and patient discussion, I am confident we can set an example to the world."
She also gave a warning that there could be challenging times ahead, but added: "We will not be buffeted by the demands to talk tough or threaten or walk out, and we will not give in to the counsels of despair that this simply cannot be done, for this is in both the UK's and EU's interests.
"We must build a new and lasting relationship while preparing for every scenario."
One of the industries that could be particularly affected by Brexit is finance. On Wednesday, UK Chancellor of the Exchequer Philip Hammond will address the issue when he makes a speech on the topic of Britain's Brexit proposals for the financial and banking sectors, focusing mainly on Britain's financial heart, the City of London.
julian@mail.chinadailyuk.com
(China Daily 03/07/2018 page10)