G20 meeting in Argentina eclipsed
BUENOS AIRES – Finance ministers and central bankers from the 20 leading industrial and developing countries are meeting in Argentina at a meeting that has been eclipsed by growing concerns over the potential of a global trade war following US President Donald Trump's decision to slap import tariffs on steel and aluminum.
Trump's tariffs of 25 percent on imported steel and 10 percent on aluminum imports will enter into force this week.
The issue had not been addressed officially at the two-day meeting that began on Monday in Buenos Aires. But some G20 officials, who spoke on condition of anonymity because they were not authorized to speak publicly, said Trump's measures have been a major talking point in private sessions.
Argentina's Treasury Minister Nicolas Dujovne asked US Treasury Secretary Steven Mnuchin on Monday to exempt the South American country from the tariffs. Trump is temporarily exempting Canada and Mexico.
Other Latin American countries have also reached out to Trump for exemptions, and the European Union's top trade official said on Monday that the EU should be excluded as a whole. The EU has already published a list of US products it plans to tax if it is not exempted.
The tariffs and the EU threat to retaliate with countermeasures have escalated the risk of a trade war with tit-for-tat tariff boosts that would harm exporting nations as well as raising prices for consumers in importing nations.
G20 officials fretted about the dangers that a potential trade war posed to world economic growth.
"The first risk is the risk of inward looking policies and protectionism," European Commissioner for Economic and Financial Affairs Pierre Moscovici told reporters after the first day of talks. Protectionism could damage growth, he said.
Mnuchin pushed back at the meeting, saying the United States could not sacrifice its own interests so that the system worked.
"There's no doubt that the secretary represents the president's very strong view that we believe in free trade," one US official told reporters.
Others at the meeting shared Europe's concerns.
"There is a solid understanding among the global community that free trade is important," Haruhiko Kuroda, Japan's central bank governor, told reporters.
French Finance Minister Bruno Le Maire told reporters: "I've been clear with Steve Mnuchin that we are waiting for a full exemption from these new American tariffs for the European Union as a whole.
"I think we should reach that goal. It's difficult (but) it's not out of reach," he said.
At news conference on Monday, Dujovne and OECD Secretary General Angel Gurria presented a report, but they declined to take questions.
AP – Reuters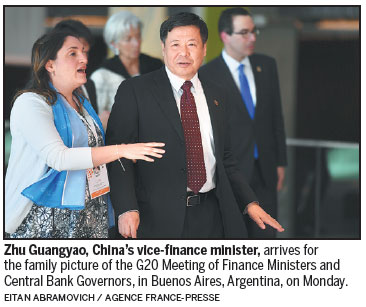 (China Daily 03/21/2018 page12)