Dual power skyrockets Jaguar Land Rover
British premium brand has sights firmly set on future, positioning itself to lead in innovative technology by forming strategic local partnerships
Jaguar Land Rover has reached a pivotal point in its journey toward a new era of travel.
During Jaguar Land Rover Night on April 23, the British automaker announced it would be breaking new ground and exploring partnerships with five leading Chinese technology companies as a crucial part of its future strategy.
As the automotive industry is evolving, so too is Jaguar Land Rover. Its newly announced China market strategy embraces a spirit of openness and inclusiveness.
Dubbed "Dual Power, Dual Innovation", the carmaker is drawing on the strength of both its global headquarters and China base, and enhancing its innovative strength by joining hands with top local innovation companies.
This strategy will lay the foundation for Jaguar Land Rover and its cherished partners to skyrocket to greater heights.
Although the automaker has already achieved numerous successes in China, these are only the first few steps on a much longer journey.
Despite multiple benchmark records, the company is still coming up with ways that best leverage its advantages and asking itself how it can champion new forms of travel.
These new strategies and partnerships come as new innovative forms of travel and technology flood the automotive industry.
Automakers are no longer the only competitors in the industry. Technology companies and new startups are emerging as fierce challengers to the status quo, forcing traditional players to rethink their own strategies.
Jaguar Land Rover's transformation into a technology company is a direct response to the rapidly increasing demand for new energy vehicles and innovative technologies.
The goal isn't just to build new cars. The automaker wants to build a safer, cleaner and smarter future for consumers in China and around the world.
Hanno Kirner, executive director of corporate and strategy at Jaguar Land Rover, said: "The car industry is changing – it will change more in the next decade than it has in the past 100 years.
"Jaguar Land Rover is leading the way. We are over-proportionally investing in new models and these crucial new technologies, whilst recruiting and retraining the highly skilled people needed to design, create and make them."
Understanding that these new players should be considered an opportunity, not a challenge, Jaguar Land Rover hopes that new strategic exploration of partnerships with China Unicom, Baidu, Alibaba, PATEO and CATL will solidify the company as part of the cutting-edge future and sustainable development in the Chinese market.
Together with China Unicom, Jaguar Land Rover will look into 5G/V2X data communications technologies.
Alongside Baidu, it will explore cooperation to develop future connected driving. Expanding their existing alliance with Alibaba, they are examining strategic cooperation in Big Data and Connected Car Services and applications to deliver personalised user experiences.
The premium automaker will also delve into innovation of in-car applications with PATEO. And it will actively explore future electric vehicle battery technology with CATL.
Traveling into new sectors alongside these leading companies will enhance Jaguar Land Rover's sales and vehicle experience across the board, as a clear exhibition of the automaker's culture of innovation and open cooperation.
By helping the transition from Made in China to Innovation in China, Jaguar Land Rover China and its partners can unite their innovative powers and foster mutual success, the company said.
During a panel discussion during Jaguar Land Rover Night, representatives from Jaguar Land Rover China and Global, as well as its partners discussed the importance of these new agreements, and how they would help them to embrace this new travel revolution.
The partners were impressed by Jaguar Land Rover's spirit of open collaboration and appreciated that they were seen as partners, not just suppliers, allowing all parties to fully utilize their respective advantages to fulfill a common goal.
Pan Qing, executive director of Jaguar Land Rover China said: "It is a privilege for Jaguar Land Rover to participate in the development of the Chinese automotive industry in the golden decade, and to continue to further boost the reform of the new era with an open attitude.
"We will continue to enhance Jaguar Land Rover's innovative strength in China, partnering with top local innovation companies to form an ecosystem of dual innovation, moving from single leadership to open collaboration."
Celebrating the 70th anniversary of the Land Rover brand, Jaguar Land Rover is excited to build on its existing products to create a complete and diverse portfolio of products and services that meet a wide range of needs.
The Asia debut of the Jaguar I-PACE and localized Jaguar E-PACE are just small glimpses of the inroads the automaker is making into the future.
The new game plan has proven that Jaguar Land Rover is a force to be reckoned with, evolving as necessary and welcoming collaborators as part of a greater vision for success.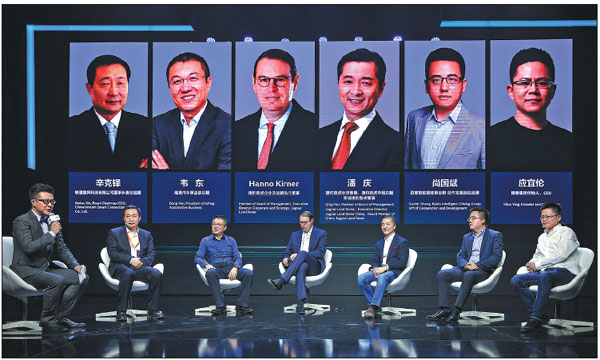 Pan Qing, executive director of Jaguar Land Rover China, and Hanno Kirner, executive director of corporate and strategy at Jaguar Land Rover, share their thoughts on the future of the auto industry with representatives from local partners. Photos provided to China Daily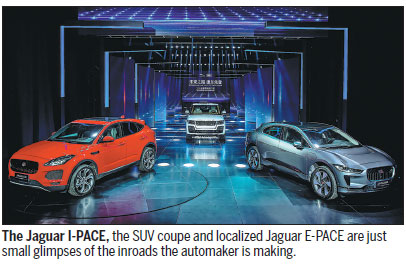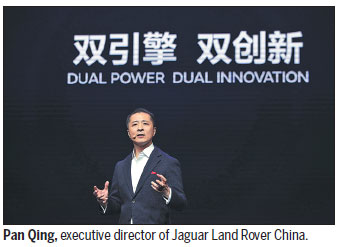 (China Daily 04/25/2018 page12)