Automaker spreads the joy with Dream Fund program
For the past three years, Jaguar Land Rover has fulfilled its responsibilities as a responsible corporate citizen, leading initiatives through its Dream Fund program that have made significant achievements.
But as Phase I of this benchmark CSR program drew to a close, the British automaker, led by Jaguar Land Rover CEO Ralf Speth, began to look for ways to reinvent the way it approaches CSR, and find new and innovative ways to create a long-term sustainable social impact in China.
On April 24, Jaguar Land Rover and the China Soong Ching Ling Foundation, or CSCLF, officially launched the next phase of Dream Fund, with the British automaker announcing a 30 million yuan ($4.8 million) donation at a signing ceremony at the China Soong Ching Ling Science and Culture Centre for Young People in Beijing.
Key leaders – including CSCLF Chairman Wang Jiarui, JLR's Speth and Minister and Deputy Head of Mission in Beijing Martyn Roper – attended the signing. They were joined by members of the British Embassy to China and other dignitaries.
The event was also attended by students and volunteer teachers from the JLR Hope School in Zhaotong, as well as over 100 members of the press.

Speth said: "Doing good is good business. Our business here in China is not just about profit and sales – it's about people.
"Jaguar Land Rover is a company with heart, and we have a sense of duty towards the people around us and the communities we call home. Our goal is to make a lasting and significant positive difference in their lives."
CSR strategy
The Dream Fund was established in 2014, to support the growth and development of children and youth in China.
Thanks to a 50 million yuan investment spread over 3 years, over 250,000 children benefited from Dream Fund-related programs in its first phase.
In Phase II, working with a new social impact framework and global CSR strategy, Jaguar Land Rover CSR projects will be designed to have a more lasting and positive impact on the community.
Jaguar Land Rover has created three new pillars that will form the foundation of its new, innovative programs – creative education, social care and China-UK cultural exchange.
These three pillars will inspire and guide the automaker to move from being socially responsible, to creating social value and working to spark lifelong, positive change.
Creative education for Youth in road safety
In innovative education, Jaguar Land Rover has established its Road Safety Experience Centre, expanding with help from The China Soong Ching Ling Science and Culture Center for Young People. It will help more young people receive regular supplemental coursework in the area of road safety general knowledge, bringing meaningful impact to campuses and communities.
In addition, in the next three years, more than 90,000 young people are expected to benefit from road safety education projects.
Specialized attention for children in need
Phase I of Jaguar Land Rover's youth eyesight programs have already begun to bear results.
In Phase II, Jaguar Land Rover will shift from comprehensive care to targeted assistance, focusing on providing specialized care and surgical procedures for young patients identified in Phase I, as well as providing training support to physicians and helping to increase their diagnostic and treatment competency.
Jaguar Land Rover will also expand on its Yunnan-Zhaotong Jaguar Land Rover Hope Schools Dream Class Program, working intimately with social workers to create a "Home for Dreams." This will give the over 600 students, and especially its 176 left-behind children, a chance to broaden their horizons and dream of a better life.
Students will receive enrichment courses and extracurricular activities, tutoring, interest training, and psychological training through the help of volunteers.
Promoting cultural exchange
Jaguar Land Rover is also involved in promoting China-UK cultural exchange.
Tottenham Hotspur Club are extending their collaboration with Jaguar Land Rover to advance the Jaguar Football Campus program, bringing the most advanced training concepts from British Premier League youth to Chinese youth.
This year, the project will expand to western China for the first time, to Chengdu.
The Spurs coach will even personally come to China to provide training for students and teachers. Compared with the first phase, training time will be extended from five days to 10 days, allowing for time for more in-depth football training.
Now starting its next stage of the Dream Fund, Jaguar Land Rover is also looking to go beyond youth football exchange.
It is looking at advancing the long history and heritage of both China and the United Kingdom to youth, introducing the literary classics of the two countries to their students in an easier-to-understand way, promoting the arts and culture of the two countries, and deepening interaction and bilateral youth cultural exchange.
The Dream Fund has thus far been a major achievement for Jaguar Land Rover, but the automaker will not be slowing down.
By re-imagining its strategies and doubling up on coordination among partners, it aspires to reach even greater heights, building a CSR program that is able to bring about far-reaching positive social impact to an ever-expanding number of beneficiaries.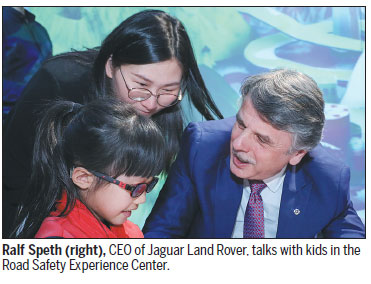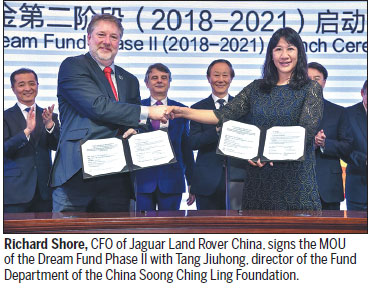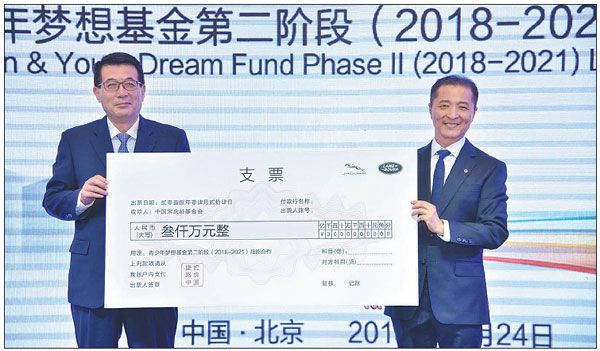 Pan Qing (right), China member of Board of Management of Jaguar Land Rover and executive director of Jaguar Land Rover China, gives a check to Jing Dunquan, vice-chairman of the China Soong Ching Ling Foundation. Photos provided to China Daily
(China Daily 04/25/2018 page12)