Arrogance, bias of IP accusations
As an effort to demonize China and justify its ongoing trade spat with China, the White House issued a report on June 19, 2018, titled How China's Economic Aggression Threatens the Technologies and Intellectual Property of the United States and the World. Bloomberg described the report as the "latest salvo in the trade war between the world's two largest economies", but there is more to it than that: distortion of the truth and the facts and the contortion of them into threats not only to the US but also to the world.
The report grossly catalogs the "economic aggression" by China against the US, and untruthfully documents the so-called "aggressive acts, policies, and practices" that the report bills as falling "outside global norms and rules (collectively," economic aggression"). The arrogance embedded in the report results in a one-sided polemic that is full of prejudice and stereotypes. The report identifies "two categories of economic aggression": first, acquiring key technologies and intellectual property from other countries, including the United States, and second, capturing the emerging high-technology industries that will drive future economic growth and advancements in the defense industry.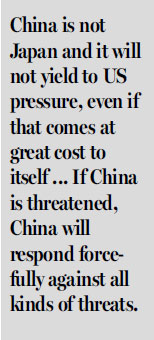 US report full of fatal errors