Abe to meet with Trump as scandals swirl at home
Domestic political scandals and sinking approval ratings are weighing on Japanese Prime Minister Shinzo Abe as he headed to US President Donald Trump's Mar-a-Lago resort in Florida for two days of talks starting on Tuesday.
Before boarding his flight from Tokyo, Abe took the unusual step of pledging to clean up the mess in government when he gets back. "As head of the government, I'm committed to deal with every single problem responsibly to uncover the truth and squeeze out the pus," he said.
Abe's meetings with Trump may provide a brief respite from his problems at home and could even stem the slide in his popularity. The two leaders plan to golf, as at their two previous summits.
But this round of talks may prove more challenging than the first two. Abe will have to overcome policy divisions on trade and potentially Pyongyang that have emerged in Trump's second year in office. A poor summit showing could further undermine Abe's position at home.
The Japanese leader's approval ratings have declined to below 30 percent in some polls as Abe has been hit by accusations of cronyism and the mishandling of official documents by several ministries. That contrasts with the 50 percent approval rating he enjoyed at the time of his Tokyo summit with Trump in November, soon after leading his ruling party to a landslide election victory.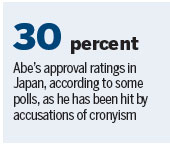 The mounting scandals have called into question Abe's chances of securing a third term as party leader this September, which seemed assured earlier this year, and could even force him to step down before the leadership race. Other party leaders with an eye on the premiership are ready to pounce should Abe fall, though he has bounced back from setbacks before.
Abe's aides hope that the meeting with Trump will showcase the leaders' close personal relationship, as the two summits last year did.
"While playing golf, they can take time and exchange views on a range of issues while deepening their relationship of trust," Chief Cabinet Secretary Yoshihide Suga said on Tuesday.
Trump surprised Abe, and much of the world, when he announced that he would meet Kim Jong-un, top leader of the Democratic People's Republic of Korea. That summit was expected in May or early June.
Abe will want to make sure Trump doesn't cut a deal with Pyongyang. As he left Japan, he said he would be reiterating Tokyo's "maximum pressure" policy toward Pyongyang, and that the "important abduction issue" would be high on his agenda.
Yu Uchiyama, a researcher at the University of Tokyo, said Abe will try to make sure the two leaders are on the same page on Pyongyang.
"Abe wants to confirm their cooperation and eliminate the image that Japan is left out of the loop," he said. "He is also seeking to achieve a diplomatic result in hopes of turning around his public support."
AP, Xinhua and AFP contributed to this story.
(China Daily 04/18/2018 page12)